Meet Our Team
Who Do I Email?
Production Team
Education Team
Executive and Finance Team
Development Team
Marketing and Front of House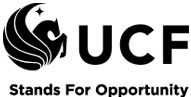 Orlando Shakes boasts a multifaceted, long-term partnership with the University of Central Florida. In addition to designating representatives to the Theater's Board of Directors, UCF provides us with necessary philosophical and financial support each season.
In return, the Theater provides a thriving Acting/Education Internship program which gives UCF students the opportunity to fulfill their MFA and undergraduate BFA requirements. University faculty and students may also participate as actors, designers, and directors for various projects, adding professional credits to their university experience. Additionally, our Artistic Director teaches classes and serves as a faculty member for Theatre UCF.
University of Central Florida students, faculty, alumni, and administrators have donated their time, energy, and resources to the Theater, and for that, the Orlando Shakespeare Theater in Partnership with UCF is truly appreciative.